Updated: 6/1/2023
June 2nd is Plano, Texas' incorporation date and in celebration of Plano's 150th birthday in 2023, here are 150 reasons to love Plano!
150 Reasons to Love Plano in 2023
1. The Dallas Morning News Hot List Named Plano "Hottest Suburb" and we couldn't agree more!
2. Plano's live music scene is on point.
3. The quaint historic downtown has experienced a renaissance and is emerging as a popular backdrop for events, live music, and dining.

4. The arts in Plano are stronger than ever before. Catch a performance from the Plano Symphony Orchestra or Plano Community Band. There is also bound to be a theatrical performance offered every weekend of the year from either Art Centre Theatre, Rover Dramawerks, and Plano Children's Theatre. Tour art exhibits at the Plano Art Association or at the ArtCentre of Plano.
5. Plano ranks as a "Best City to Live:" #1 by AreaVibes in 2011, Top 100 in 2015 by Livability, #1 in Texas and #3 in America by Money in 2016, #5 by Niche in 2016, #7 by Niche in 2017 and 2021. In 2023, WalletHub ranked Plano the 4th Best Place to Raise a Family in the U.S. Find more Plano accolades here.
6. Plano is a foodie's paradise with a robust variety of dining. With over 1,000 restaurants in this city, it will for sure be hard to narrow it down. Check out our That's Tempting series to help you plan your dining adventure on your next visit.
7. Plano's most colorful attraction, the Crayola Experience at The Shops at Willow Bend, is an amazing place where visitors can explore the 60,000 square foot attraction that Parents Magazine calls one of the "Top 10 Trips to Take Before Your Kid Turns 10." Purchase discounted tickets here.

8. Plano is known as the Hot Air Balloon Capital of Texas thanks to the Plano Balloon Festival held every September for more than four decades.
9. Legacy West is home to the North American headquarters of Toyota and FedEx Office as well as the regional headquarters for JPMorgan & Chase Co. and Liberty Mutual with more than 20,000 employees, making it one of the largest new job centers in the state.
10. McCall Plaza in the Downtown Plano Arts District is the perfect backdrop for live music and events.
11. At 800 acres, Oak Point Park has 3.5 miles of concrete trails and 5 miles of soft trails along Rowlett Creek.
12. Legacy Hall, one of the nation's largest and most unique food halls is dedicated to serving the best-of food trends prepared by premier chefs and local artisans. The three-story, 55,000-square-foot European-style food hall, brewery and live music and entertainment venue is located in Plano's acclaimed Legacy West. They were also named the 2nd Best Food Hall in the U.S. in 2019 by USA Today!

13. The Lexus Box Garden is the completion of the vision that is Legacy Hall. It's an awesome outdoor patio and entertainment venue constructed out of reclaimed shipping containers. Designed to be a versatile and innovative, communal space; it's the spot for a happy hour with friends, a business rendezvous or some late-night fun. At its core is a 600-square-foot event stage that hosts live music, concerts, sports watching, festivals, culinary events and more.
14. Arbor Hills Nature Preserve is a 200-acre park featuring vast areas of natural beauty for walking, jogging, hiking and other outdoor activities.
15. Find bluebonnets across the city every spring for family photos.
16. Legacy West's 3.2 billion dollar, 255-acre development boasts 415,000 dynamic square feet of open-air luxury retail and high-end restaurants.
17. Find Texas shaped cornbread, fried pickles, Shiner beer, and live music all at Love & War in Texas.
18. Some of the corporate headquarters here include: Cinemark Theaters, Ericcson, HP Enterprise Services, JCPenney, PepsiCo Foods North America (PFNA), FedEx Office, Pizza Hut, Rent-A-Center, Toyota North America and Hilti. No wonder Wallethub ranked Plano as the Best City to Find a Job!
19. Heritage Farmstead's four-acre museum preserves a way of life during the height of farm prosperity in the early 1900s.
20. See North Texas transportation history brought back to life at the Interurban Railway Museum.
21. Though just outside of Plano, we love nearby Southfork Ranch for being home of the "Dallas" TV series.
22. Plano is home to the original Texas-shaped pool aka The Texas Pool.

23. Patio dining isn't just a trend, it's a lifestyle.
24. The Legacy West Happy Hour Hikes are a great excuse for a girl's night out.
25. If your child is in select sports, you already know Plano is a mecca for youth recreational sports.
26. Plano's 75-square miles of park fields and sport facilities dominate the north Texas region.
27. Plano has some amazing live music venues across the city.
28. Whiskey Cake's namesake dessert & OMG Burger are a must try.

29. Experience world cultures each year at the Plano International Festival.
30. You can enjoy arepas and a hibiscus margarita on Mexican Sugar's patio over-looking The Shops at Legacy fountain.
31. Plano hosts everything from youth soccer to international cricket.
32. Sixty Vines restaurant has 40 wines and 20 beers on tap and a Texas olive oil citrus cake that you can't leave Plano without trying.
33. AsiaFest celebrates the Asian American heritage every May for almost 20 years.
34. Urban Crust's Shea's Eastside pizza and Heart of Plano is the perfect combo for an afternoon lunch date.
35. You can take your #PlanoPup for play dates at three dog parks in Plano: Jack Carter Dog Park, the Dog Park at Bob Woodruff, and the Dog Park at Windhaven Meadows.
36. Haggard Park makes for the perfect backdrop for events like Dickens and Texas Forever Fest.
37. A hidden gem: The Latin Pig and their famous Cubanos.
38. Plano has seven cricket pitches in a single park, which is more than any city in North America.
39. Don't let wedding planning cause you stress! Leave it to Plano's wedding experts to help plan your most special day. Finding the right venue for your taste and budget is so important, and lucky for you, Plano has options for every preference.
40. Plano is home to an amazing climbing gym, Movement Plano.

41. We love family Sunday outings to the award-winning Henry's Home Made Ice Cream. Their famous ice cream is sold in over 400 restaurants! Remember, "Ice Cream Makes You Pretty!"
42. Texas' only Mitsuwa Marketplace is the largest Japanese supermarket chain in the U.S. and recently opened its doors in Plano.
43. Enjoy a glass of wine at Cru while listening to jazz musicians stroll down the street.
44. The Lights at Legacy held each November is the perfect way to kick-off the holiday season.
45. Don't overlook the carrot at Bob's Steak and Chop House! Their iconic, larger than life, glazed carrot is served with every entrée.
46. NYLO Plano's bar, pool, and patio. Staycation anyone?
47. How many other cities can say they have their own hot air balloon? Meet Excellence.

48. The beautiful newly renovated Saigling House, which is now home to the ArtCentre of Plano.
49. Travel throughout the Dallas-Fort Worth area via the DART Rail Line from three locations in Plano: Cityline/Bush Station, Downtown Plano Station, and Parker Road Station.
50. Find Tarzan swings and suspended obstacles amid 800 acres of natural beauty at Texas' only Go Ape location at Plano's Oak Point Park & Nature Preserve.
51. Plano is home to North Texas' first PINSTACK, a 50,000 square foot state-of-the-art bowling and active entertainment destination.
52. Bowl 24 hours a day, 365 days a year at the newly renovated Plano Super Bowl.
53. Plano is home to one of eight Angelika Film Center & Cafés in the U.S., which anchors The Shops at Legacy bringing Indie films to Plano.
54. Attend a sip & stroll type events like the Legacy West Happy Hour Hikes happening April through December.
55. Catch a show at Art Centre Theatre. There's plenty to choose from with over 50 complete productions a year!
56. You can ride your bike around town. With more than 56 miles of trails criss-crossing the city, it's a great way to see Plano. You can even find the routes on Google.
57. Here in Plano cosmopolitan meets country. Iconic Texas Longhorns can be seen lounging around some of the city's large fields and green spaces.

58. Plano makes it easy to squeeze in some golf on your lunch break at Pecan Hollow, The Courses at Watters Creek, and Ridgeview Ranch.
59. Enjoy live music and dance the night away at Sambuca 360 at The Shops at Legacy.
60. The Shops at Willow Bend, a picturesque and upscale shopping center, features more than 150 stores, including Neiman Marcus, Dillard's, and Macy's.
61. Preston Park Village is a walkable outdoor shopping haven with stores like Animal Crackers, Cotton Island, and much more.
62. Indulge in organic spa services at the Woodhouse Day Spa.
63. The newly renovated and renamed Plano Event Center hosts hundreds of events a year ranging from conventions and corporate meetings to weddings and social events.
64. The new all-abilities parks at Jack Carter Park and Liberty Playground at Windhaven Meadows Park gives us all the feels.
65. A restaurant inside a retail store? Why not! Check out Prim & Proper located inside the retail store Neighborhood Goods at Legacy West. At Neighborhood Goods you'll find an ever-changing selection of brands and products most of which you won't find in stores, let alone on another website. Try Prim & Proper's Goods Burger.
66. Foodies and shoppers unite at Lakeside Market where you'll find Weir's Furniture Village, Mignon, Bread Winners, Taverna Rossa, Mi Cocina, Sea Breeze Fish Market and so much more.
67. We are lucky to have a top-notch, award-winning school district.
68. "It's a little Plano in here" became an overnight sensation. Thank you LeeAnne Locken, Real Housewives of Dallas!
69. Plano continuously ranks as a "Safe City": #1 by Forbes in 2011 and 2014, #3 by Business Insider in 2013, #4 by Movoto in 2014, #7 by Law Street Media, #14 by Niche in 2016, Safest Big City in the U.S. in 2018 by RewardExpert, the third Safest City in the U.S. by WalletHub in 2019 and 2020, and the Top 100 Safest Cities by WalletHub in 2022.
70. The Boardwalk at Granite Park. This 30,000-square-foot restaurant area at Granite Park includes fabulous dining options like Union Bear Brewing Co., The Biscuit Bar, Chip's Old Fashioned Hamburgers, Fork & Fire, Bavette Steak, Blue Mesa, Suburban Yacht Club, and Golden Boy Coffee & Wine Bar.

71. The beautiful Red Tail Pavilion. Enjoy this amazing outdoor venue during the many concerts and events like the annual Beatles Night.
72. There are plenty of ways to grab a work out in Plano.
73. One of Plano's newest luxury full-service hotels, the 15-floor 304-room Renaissance Dallas at Plano Legacy West, has 16 suites and 19 meeting rooms totaling 30,000 square feet of meeting and event space. The hotel's theme, "west of Zen," is a nod to the developer's family Asian roots and its Texas growth. There's a beautiful mix of Texas and Asian culture in the hotel's design from the finishes to the art and the furniture.
74. Find a variety of free family-friendly activities.
75. As Texans, we love our Tex-Mex and luckily there are plenty of options in Plano.
76. There are over 7,000 hotel rooms for visitors across the city.
77. My Possibilities, a Plano non-profit organization dedicated to empowering adults with intellectual and developmental disabilities, recently opened their new Higher Learning campus which at full capacity can serve more than 1,600 adults with IDD. This facility is the first and only in the U.S.
78. There's plenty of Instagram worthy spots around town.
79. Bring the family pup! Over half of Plano hotels are pet-friendly and there are many pet-friendly restaurant patios and attractions in Plano. Tag your photos #PlanoPup!

80. Plano is known as a top youth soccer city in the U.S.
81. Urban Crust and Urban Rio in downtown have second floor open-air patios with great views.
82. The Lights at Deerfield: drive through this famous Plano neighborhood in December for a spectacular holiday lights display.
83. The Gift of Christmas is a 1000-member cast and choir with a live orchestra, flying angels, flying drummer boys, and live animals produced annually by Prestonwood Baptist Church.
84. Plano was named to the Top 10 Most Beautiful Cities in Texas by WorldAtlas.
85. Plan a Plano brew tour! There are plenty of cute and cozy coffee shops and fun craft breweries to discover all across Plano. Whether you love coffee or beer or both, put these brews on your must-try list!
86. Plano has more restaurants per capita than in the cities of San Francisco and New York.

87. Plano is minutes from DFW, Love Field, Addison, and McKinney Regional airports.
88. Grab a cup of joe at our charming coffee shops like 1418 Coffeehouse, Golden Boy Coffee & Wine Bar, Mudleaf Coffee, and Toasted Coffee + Kitchen.
89. Plano believes in higher education with Collin College.
90. Plano has one of the best Fourth of July firework shows in DFW.
91. Plano is such a welcoming city for all families. So, if you are here for a short time with kids or young adults with physical, sensory or other types of special needs, we have outlined several great options for things to do in Plano.
92. Play disc golf at Shawnee Park.
93. Zig Ziglar, Lance Armstrong, and Boz Scaggs once called Plano home.
94. WOGA Gymnastics is home to 2008 Olympic All Around Champion, Nastia Liukin, and 2004 Olympic All Around Champion, Carly Patterson.
95. Planoites love their beef! Here's a short list of Plano steakhouses: Bob's Steak and Chop House, The Capital Grille, Del Frisco's Double Eagle Steak House, Fleming's Prime Steakhouse and Wine Bar, LongHorn Steakhouse, Mignon, and Fogo de Chão … just to name a few.
96. We also love our wine: Sixty Vines, Cru, Vinotopia at Legacy Hall, Taverna, and Seasons 52 are just a few that offer an expansive list.
97. Are you hard working self-employed entrepreneur? Plano has several co-working spaces like the Plano Chamber of Commerce LegacyTexas Business Center, WeWork, Common Desk, and more.
98. Plano's TEDxPlano event combines video and live speakers who spark deep discussion and connection in a small group. Talks surround the fundamentals of TED: Technology, Entertainment and Design, as well as societal factors impacting our lives in North Texas.
99. There are several unique meeting and event venues in Plano.
100. Experience a haunted house not only during Halloween, but also for Valentine's Day, at Dark Hour! Check our their new Dark Hour Escape too!
101. Plano is just plain cool (via the Dallas Morning News).
102. Wow your friends at the 32 degree ice bar at Urban Crust. Yes, the bar top is an icy 32 degrees!
103. The pet-friendly Hilton Dallas/Plano Granite Park has a beautiful pool, patio, and fire-pit overlooking the Granite Park pond. Don't forget about the gorgeous Prairie Fire Lounge.
104. The nightlife never disappoints.

105. One of the many great things about living in the DFW Metroplex is easy access to all of the area's cities and attractions. Next time you are ready to explore outside of your own city, drive to Plano for a day's worth of fun and adventure for the whole family or a fun day-date.
106. Georgia's Farmers Market in downtown has an amazing selection of fresh fruits and veggies all year round. Don't pass up their flowers and wall of preserves either.
107. Escape rooms are growing in popularity for team building and group date nights, and lucky for us there are several here to choose from: Breakout Games and Red Door Escape Room.
108. The newly renovated Dallas/Plano Marriott at Legacy Town Center provides visitors easy access to all the shopping and dining of The Shops at Legacy. Plus, they have a great waterfront view.
109. Plano's many walkable areas: Downtown, The Shops at Legacy, Legacy West, The District at Willow Bend, The Boardwalk at Granite Park, Lakeside Market, and Preston Park Village.
110. Team-building activities are plentiful. From adventures and gaming to cooking challenges and arts and crafts. Forget the white board and cheesy role-playing!
111. Who doesn't love rollerblading? Skate over to Thunderbird Roller Rink!
112. Whirley ball, anyone? We have that too.
113. Looking for budget-friendly things to do on your visit to Plano? There's plenty to do! Check out our lists of Plano adventures under $10 and $25.
114. Ice skate all year-round at the Children's Health StarCenter.
115. The Environmental Education Center is the perfect environment to educate and engage the Plano community in sustainable practices and environmental stewardship. It's also the City of Plano's first green building and is certified LEED Platinum by the U.S. Green Building Council.
116. The first in Texas Cambria hotel + suites Plano-Frisco was recently awarded their LEED Silver certification.
117. Fowl-on at Folwing Warehouse! Fowling is a unique and entertaining game that merges football with bowling and is perfect for small or large groups. It's as easy as throwing a football at ten bowling pins until someone knocks them all down. Fowling Warehouse's Plano location is the first in the southern U.S., their largest venue, and the first venue with full food & beverage options! This is a perfect indoor activity for adults, older kids and teens.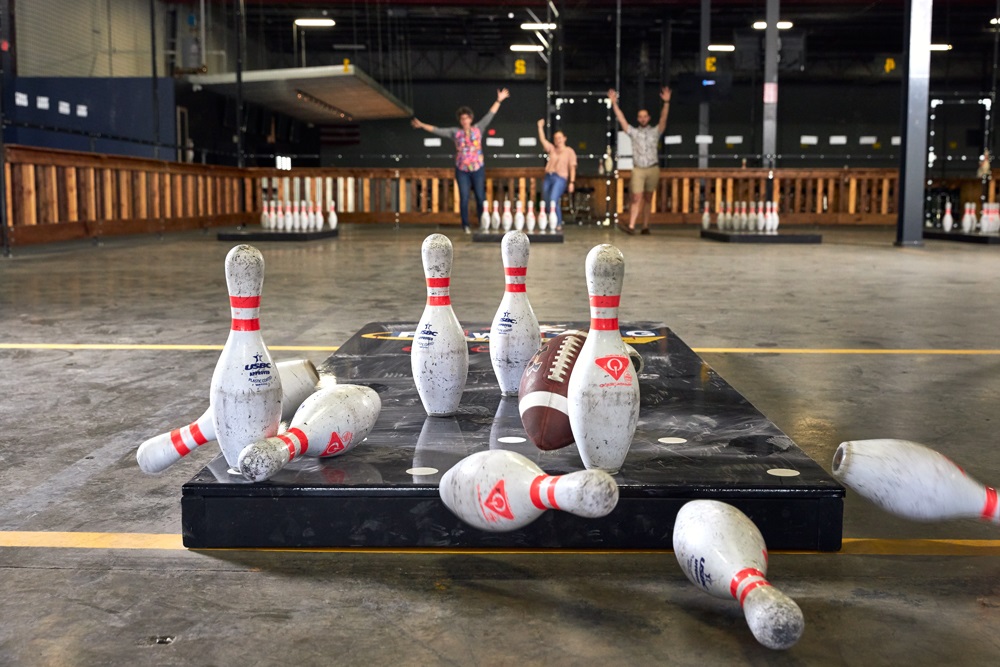 118. We have an accredited, award-winning Public Library System with five great libraries around the city.
119. There are five stellar recreation centers in Plano plus Plano Aquatic Center, Harry Rowlinson Community Natatorium, and Jack Carter Pool.
120. Plano has more than 56 miles of recreational trails open to the public. Chances are, there's a trail near you. Get trail information here including downloadable trail maps.
121. Plano is known for being a clean city.
122. The Fillmore Pub's patio by McCall Plaza is a sought after location for listening to live music at McCall Plaza.
123. Apartment living in downtown Plano is made easy with walkable access to great restaurants, live music, events, a beautiful park, art galleries, DART, attractions and so much more.
124. Plano's 20,000-square-foot Carpenter Park Skateboard Park has 16 skate park features.
125. In the midst of the COVID-19 pandemic, WalletHub named Plano the Best City for Staycations in the U.S. To determine the best cities for a fun-filled yet wallet-friendly staycation, WalletHub compared more than 180 cities across 15 key metrics. Their data set ranged from parks per capita to the average home square footage and the idealness of summer weather.
126. Plano has its very own Taste of Plano Foodie Pass highlighting 100 restaurants in Plano. Register, check-in, and win awesome prizes!

127. The Bavarian Grill & Jorg's Café Vienna bring Austrian and Bavarian cuisine to Plano.
128. Every restaurant at Legacy West has a patio.
129. Find seven sculptures, each depicting a different element of the local arts scene, line a stretch of 15th Street between Central Expressway and G Avenue. They serve as a colorful welcome to the Downtown Plano Arts District.
130. Find great birthday gifts for your BFF at La Fooforaw in downtown.
131. If you haven't tried Yao Fuzi, bring a bib and devour some soup dumplings.
132. There's free public Wi-Fi at Plano parks and recreation centers thanks to a partnership between the City of Plano, Toyota, the American Park Network and Time Warner Cable.
133. You can't come to Texas and not try our BBQ. Burnt BBQ, Dry Rub at Legacy Hall, Lockhart Smokehouse, Pappas Delta Blues, and Winners BBQ have you covered.
134. Sprinkles opened up shop at Legacy West. Come by 24 hours a day, seven days a week and buy a cupcake from the cupcake ATM outside the store.
135. Shinola brought its first Texas store to Texas in downtown Plano in 2015. Shop luxury watches, leather, and bikes. You can also find Willys Detroit, a sister store to Shinola that sells fashion, home, and apothecary brands.
136. Baccuss Park at The Shops at Legacy is a Texas historical landmark (circa 1847) and is home to Baccus Cemetery, founded by Captain Henry Cook to bury his son Daniel Cook. Several of his family members and many of their descendants are buried in the cemetery.
137. Get your hair cut at an old-fashioned barbershop in downtown Plano.
138. You've probably seen the beautiful bronze cattle sculptures at The Shops at Legacy. Did you know they depict a cattle drive along the Shawnee Trail, a principal route on which Texas longhorn cattle were driven before and just after the Civil War?

139. The Ye Ole Butcher Shop in downtown offers buffalo burgers daily. Let's just say veggie burgers are not on this meat market's menu!
140. The Fish Shake in downtown has great gumbo. Be sure to arrive early; it's always a packed house!
141. The Haggard family and their own Haggard Farm is a vital part of Plano's history. You may have noticed the cattle and llamas that still roam the 120 acres of farmland.
142. There's always somewhere to enjoy a late night bite.
143. Paddle board, kayak, or canoe on the lake at Oak Point Park (bring your own)!
144. The awesome Jack Carter Pool has a dual rider tube slide, body slide, lazy river, deep water pool with platform diving and a climbing wall, Flow Rider surf simulator, tot pool, leisure pool with some lap lanes, wet deck areas, spray features, rentable party areas and concessions. How awesome is that?
145. Plano's happy hour game is on point.
146. Did you know Plano has it's own coloring book? Download it here or stop by the Visit Plano Visitor Center at Legacy West to grad your own copy!
147. Did you know Plano has two breweries? Check out their concepts and get inspired to give them a try.
148. Horseback riding in Plano? Well, close enough… be a cowboy for a day and jump on horseback down the road from Plano at Southfork Ranch in Parker. Find info regarding their trail rides here.

149. Plano has all kinds of creative break out sessions for meetings. Check out all the options here.
150. Dine and play video games at Farm + Feed located at The Shops at Legacy.
Discover more about Plano by subscribing to our quarterly newsletter.