Bringing your group to Plano, TX and looking for unique break-outs? Here's our guide to finding creative and unique group sessions. From water color art workshops, and bath-bomb making classes, to moving off-site at locations like Go Ape and Fowling Warehouse, there are so many options for keeping your attendees engaged and entertained.
On-Site Creative Break-Outs for Meetings
Amy Pagan Art – art classes
Creating confidence and community through art. Amy Pagan Art provides team building and stress relief training for corporate and non-profit development days. No matter what your age of skill level, she can guide you to create joy through art.

Color Snack – watercolor WorkShops
Volta's workshop approach is to encourage everyone to discover their inner artist by teaching guests easy and creative techniques for self expression. The result is a supportive experience and safe space for creative exploration that goes beyond the workshop – it's an invitation to a creative and happy life, by following easy tips.
Sweet Home Bath & Body WorkShops
Sweet Home Bath & Body owner, Tina Ames, focuses on creating bath and skincare products with ethically sourced ingredients and eco-friendly packaging in small batches to inspire sweet moments of self-care and that are beautiful enough to gift. Tina can customize corporate break-out sessions with hands-on activities like candle, soap, and bath bomb making classes.

More On-site options:
Farm House Cakes & Cookies – decorating class
Petals & Pinot floral design class
Off-Site Creative Break-Outs for Meetings
Board & Brush
Board & Brush's DIY workshops provide the perfect opportunity for your team to socialize, collaborate, and have fun all while creating a unique piece of art that you'll be proud to display in your home.
Crayola Experience
With 60,000 square feet of attractions, Crayola Experience is Texas' most colorful family destination for interactive, creative play. Families typically spend 3-4 hours exploring the 22 hands-on attractions. Kids of all ages can embark on a wonderful, whimsical adventure with such unique experiences as starring in their very own coloring pages, naming and wrapping their very own Crayola crayon, learning how crayons are made in a live manufacturing show and so much more. The Crayola Experience is open year round, specializing in colorful birthday parties, group outings, educational field trips, and special events. Group discounts and annual passes are available.

Fowling Warehouse
Two of America's favorite things, bowling and football, collide in the best way possible. It started as a one-lane mashup of two popular sports while tailgating at the 2001 Indy 500. Today, Fowling is quickly turning into a national sensation. Fowling is a unique and entertaining game that merges football with bowling and is perfect for small or large groups. It's as easy as throwing a football at ten bowling pins until someone knocks them all down. Fowling Warehouse's Plano location is the first in the south, their largest venue, and the first venue with full food & beverage options. Learn more about Fowling Warehouse in Plano.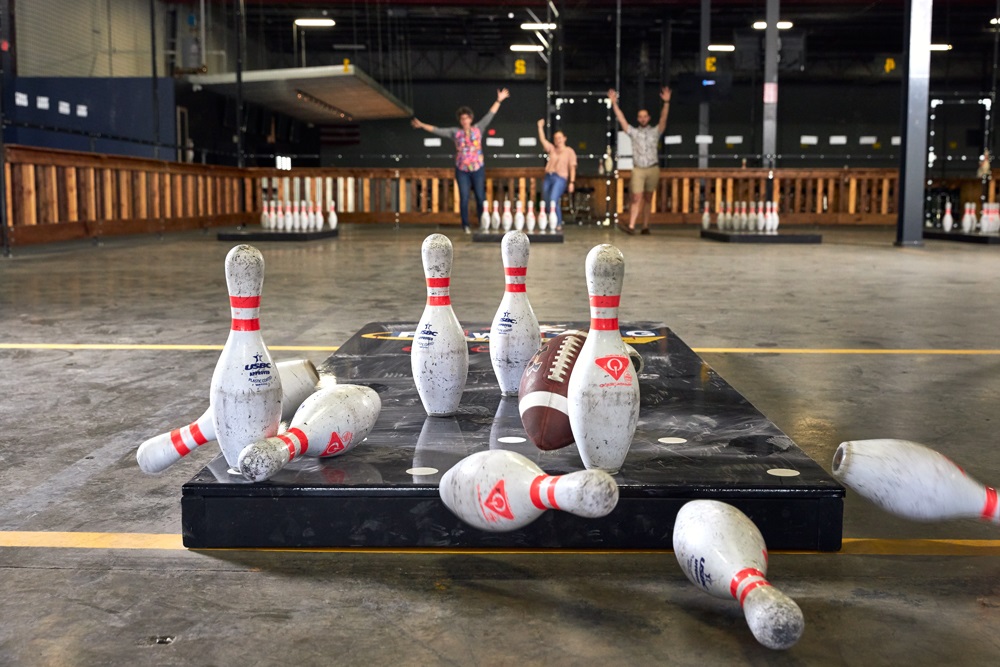 Go Ape
Glide over the forest canopy at Plano's Go Ape! Zip lines, Tarzan swings and suspended obstacles bring out your inner monkey and provide a fun challenge amid 800 acres of natural beauty at Texas' only Go Ape location.

My French Recipe
My French Recipe creates fun off-site events for teams to collaborate in a different way. During 2 to 3 hours, leave the comfort of your office and enjoy a unique activity. Working in a group, you will learn how to make delicious dishes in a cool and fun atmosphere with our chefs.
Pinstack
PINSTACK is North Texas' first state-of-the-art bowling and active entertainment destination. This 50,000 square foot fun zone features a 28-lane bowling alley, a ropes course suspended 20 feet above the gaming center, two-story laser tag, bumper cars, six lanes of LED-lit rock climbing walls, and hundreds of interactive games. The facility also has a specialty restaurant featuring a chef-driven menu and craft cocktails, an outside bar area, covered patio with fire pits, gelato bar, big screen TVs and ample seating. PINSTACK also offers a luxury VIP bowling area for private parties.

More Off-site Options:
11th Hour Escape
Battle House Laser Tag
Breakout Games
Horse-back trail rides at Southfork Ranch
Nerfies
North Texas Escape Rooms
Pipe & Palette
Red Door Escape Room
Summit Climbing, Yoga & Fitness
Trey Wilcox Cooking Classes
Vinotopia wine tasting at Legacy Hall
Related Plano Insider Articles:
For more information about meeting in Plano, explore our offerings here.