Updated: 3/23/2023
There is so much to see, do, eat, and discover in Plano, Texas! From word-famous attractions to local gems, there is plenty to explore. Here's a closer look at the top 20 things to do in Plano!
1. Fowl-On at Fowling Warehouse
Fowling is all the craze right now and it's a MUST TRY for a fun night out with your friends. It started as a one-lane mashup of two popular sports while tailgating at the 2001 Indy 500. Today, Fowling is quickly turning into a national sensation. Fowling is a unique and entertaining game that merges football with bowling and is perfect for small or large groups. It's as easy as throwing a football at ten bowling pins until someone knocks them all down. Fowling Warehouse's Plano location is the first in the south, their largest venue, and the first venue with full food & beverage options.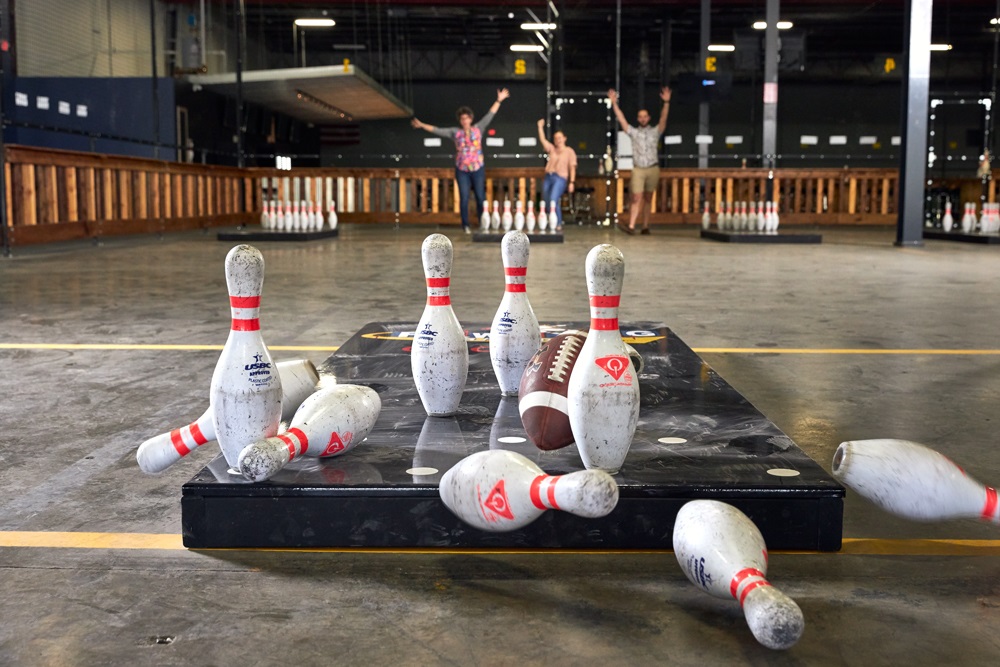 2. Discover the Colorful World of Crayola
Plano's most colorful attraction, the Crayola Experience at The Shops at Willow Bend, is an amazing place where visitors can explore 22 hands-on attractions in a 60,000 square foot space that Parents Magazine calls one of the "Top 10 Trips to Take Before Your Kid Turns 10."
Purchase discounted tickets here.
3. Explore Legacy West
Legacy West, Plano's newest $3.2 billion 255-acre open-air development, hosts a plethora of unique restaurants, shops and other sights for you to enjoy.
Legacy West's shopping offerings run the gamut from fashion to furnishings to cosmetics and even cars. (Think Tesla!) Its luxury retailers include: CHANEL Fragrance & Beauty, Golden Goose, Gucci, Louis Vuitton, Tiffany & Co, and Tory Burch. After a day of retail therapy, shoppers won't have to go very far to set down their spoils, since this urban village is anchored by the new Renaissance Dallas at Plano Legacy West Hotel. The 15 story, 304-room luxury property features a high energy lobby and bar, an on-site Asian fusion restaurant, a third floor amenity deck with a swimming pool and cabanas, fitness center, and outdoor event space.

4. Dine, Drink, and Discover at Legacy Hall
Also at Legacy West is Legacy Food Hall, one of the nation's largest and most unique food halls dedicated to serving the best-of food trends prepared by premier chefs and local artisans.
The three-story, 55,000-square-foot European-style food hall, features 20 chef-driven food stalls, a brewery (Unlawful Assembly), and a live music and entertainment venue (the Lexus Box Garden).

5. Swim Across Texas
The historic Texas Pool is 168,000 gallons of saltwater shaped like the great State of Texas and is officially a National Landmark listed in the National Register of Historic Places.
The pool is open Memorial Day to Labor Day and features a diving board, two water slides, and an island with a shallow "South Texas" wading area for small children and parents. Cook out on their BBQ grills or enjoy the snack bar. There are also picnic tables and a beach volleyball court. Tourist passes are available!

6. Go Ape at Oak Point Park
The first treetop adventure course in Texas is just minutes from the Downtown Plano Arts District at Oak Point Park & Nature Preserve.
This vast area of natural beauty sits on 800 acres and features more than just a canopy tour. Go Ape includes five individual sections with rope ladders and 39 exciting crossings.

7. Hike or Canoe at Oak Point Park
There's tons to see at this beautiful 800-acre preserve in Plano and canoeing is an active way you can get out there and explore by water. Bring your own kayak, canoe, or stand up paddle board and enjoy the beautiful scenery from the water.
The park also has several trails if you prefer to run, bike, or just wander and enjoy being outside.

8. Walk the Boardwalk
Plano's Granite Park Boardwalk has the same energetic but simultaneously relaxing feel that everybody knows and loves when it comes to boardwalks.
Situated across from the luxurious patio of the 299-room Hilton at Granite Park, this 30,000 square foot expanse features a variety of restaurants with patios serving burgers, gourmet biscuits, southern California boardwalk-style cuisine, brew pub fare, specialty coffee, pastries and more. There are also beachy deck chairs that afford a great view of the park's inviting water feature and live music stage.

9. Practice Bowling Spares & Strikes
Main Event Entertainment
Its unique Eat.Bowl.Play. experience features state-of-the-art bowling, multi-level laser tag, high ropes adventure courses, billiards and interactive and virtual video games, with dining experiences ranging from fast-casual to chef-inspired casual and creative cocktails, beer and wine.
Plano Super Bowl
Open 24 hours and newly renovated, Plano Super Bowl offers everything you need for a fun night out with family or friends. Plano Super Bowl is home to Scratch Kitchen serving up made-from-scratch breakfast, brunch, lunch, and dinner. Be sure to check their bowling specials!
Pinstack
From state-of-the-art bowling lanes to its unique LED rock climbing wall, Pinstack has indoor games for the whole family. The one-of-a-kind indoor family activity venue features a full-service restaurant offering a chef-inspired menu featuring local and regional cuisine, a full bar and a private dining area.

10. See an Active Farm at Heritage Farmstead
Wondering what the area was like in the 19th century? Heritage Farmstead can take you back with its original buildings, museum and active farm and garden museum.
Set on four acres, this living history museum lets visitors step back into the late 1800s and early 1900s. The property's beautiful Victorian home and 12 outbuildings were once part of a 360-acre farm operated by colorful local resident Ammie Wilson and is on the National Register of Historic Places.

11. Visit the Downtown Plano Arts District
It may look historic, because it is! Downtown Plano was recently added to the National Register of Historic Places. However, the area still boasts an urban dining scene and a cool vibe with plenty to keep you busy.
From coffee and breakfast spots to hip restaurants for a night out with the girls. If shopping is on your must-do, unique boutiques selling a variety of goods from handmade jewelry to antiques are also on the brick-lined street. Check out the event calendar to see what's going on during your visit.

12. Find Live Music
It's not hard to come by live music in Plano! From outdoor venues at parks and in Downtown Plano to intimate restaurant settings, there are so many options to listen to some great tunes.

13. Discover the Arts in Plano
Plano is making a name for itself in the art community. With the recent additions of 10 public art pieces in the Downtown Plano Arts District, Plano has a colorful new look!
The Saigling House is newly renovated and now the home for the Art Center of Plano; it is one of Plano's artistic jewels. You can even catch the Plano Community Band at neighboring Haggard Park playing free concerts.
If you're a classical music fan, you may also be surprised to learn Plano has its own symphony. Whether you've been a fan of the arts for many years or you just want to dip your feet in, Plano is certainly a destination to indulge all types!
Be sure to check out wall murals in the Downtown Plano Arts District, Legacy Central, and The Shops at Legacy!
14. Get Your Game On at Farm + Feed
Get your game on! Farm + Feed is a restaurant-combination-game spot that merges a chef-driven restaurant and full bar with all the latest gaming technology. Farm + Feed, or as we would like to call it, F + F, promises to provide both novice and experienced gamers an all-in-one hangout.

15. Vacation with Your Pet
More and more people are traveling with their pets and Plano is the perfect destination for you and your pup to enjoy. Plano is recognized as a Better City for Pets™, after all!
With tons of dog-friendly restaurant patios and events, over 4,300 acres of greenspace with beautiful parks, outdoor walkable entertainment areas, and a large selection of pet-friendly hotels, Plano can make your pet-friendly travel dreams come true.
Check out the write up in Forbes about our dog-friendly city!

16. Grab a Bite
With more than 1,000 restaurants in Plano, it will be a tough choice but there is definitely something to please everyone. We'll just point you to our restaurant list and wish you good luck.
17. Ollie at the Skateboard Park
The new Carpenter Park Skate Park combines popular street-style skating and bowl skating features making it one of the most extensive and unique skate parks in all of the Dallas-Fort Worth Metroplex.
Skaters will enjoy one of the largest bowls in the area as well as various sized ramps, rails, stair sets, and ledges. You will also notice the fitting design of the skate park in a "P" shape resembling the official Plano logo. View hours here.

18. Climb Aboard the Interurban
Electric rails are nothing new. In fact, the Texas Electric Railway was a vital part of Plano history, which you can experience at this downtown gem, the Interurban Railway Museum.
See the original ticket window and climb onto a refurbished rail car. Find out how Plano mistakenly got its name and how the railway was used to shuttle workers until 1948. Read more about the Interurban Railway Museum and come see it for yourself in the Downtown Plano Arts District.

19. Tour a world-famous ranch
Known as the "world's most famous ranch," Southfork Ranch is best known from the television series "Dallas," offering visitors the opportunity to relive memorable moments from the fictional Ewing clan. The "Dallas Legends: Fact to Fantasy" exhibit features the gun that shot J.R., Lucy's wedding dress, video clips from the series and other memorabilia. Located in nearby Parker, Southfork has attracted millions of visitors and is open daily year-round. Guided tour pricing: adults – $16, senior citizens (60+) – $14, children (6-12) – $9, and children 5 and under — free. *Pricing does not include tax.
Or enjoy some real Texas-sized fun while exploring the trails on horseback! Trail rides are open 7 days a week based upon availability and with weather permitting. Reservations can accommodate a group of up to 6 riders per session. Rides head out at 10:00 am, 11:30 am, 1:00 pm, 2:30 pm and 4:00 pm. daily. Riders must be at least 8 years old, 48" tall, and not exceed 240 pounds. Closed-toe shoes are required for all riders.
Are you in for a full Southfork Ranch adventure? Live and dream like a Ewing and stay the night in Southfork's historic mansion! More details here.

20. Shop Till You Drop
One thing is for sure when it comes to Plano, there are endless shopping options to experience. Dallas may be known as one of the top shopping destinations in the U.S., but just 20 miles north, you can continue the one-of-a-kind shopping adventure in Plano.

From Legacy West, The Shops at Legacy, The Shops at Willow Bend to the Downtown Plano Arts District and everywhere in between – Plano is brimming with shopping areas. Check out Plano's shopping adventure here.
For a complete list of Plano attractions, click here.