Celebrate in Plano, TX this 4th of July holiday weekend with the best dining, fun patriotic events, great hotel deals, and so much more! We've already got your red, white, and blue weekend itinerary planned, you just need to get here.
Where to stay
Plano has an incredible selection of more than 55 hotels, from family-friendly and affordable to modern luxury. Check out these summer hotel deals! Save money on your hotel room and have more money to spend on dining, shopping, and fun experiences.
View the complete list of hotels in Plano here.
4th of July events
PLANO'S ALL AMERICAN 4TH

Come out to Oak Point Park for Plano's free All American 4th celebration. The festival opens at 6pm and fireworks begin at 9:30pm. Parking is available at Collin College.
Also, the Rotary Clubs of Plano are hosting a 4th of July parade along Spring Creek Parkway in between Collin College and the Red Tail Pavilion at 7:30pm immediately prior to the fireworks.
PLANO COMMUNITY BAND PATRIOTIC CONCERT

On July 3 at Haggard Park in the Downtown Plano Arts District, enjoy the Plano Community Band's free Patriotic Concert at 7pm then have dinner at a Downtown Plano restaurant.
Independence Day Pool Party

Swim across Texas at The Texas Pool and enjoy food, traditional pool games and legendary fun in the sun. Enjoy food, traditional pool games and legendary fun in the sun! Admission is $10 per person. Veterans and active-duty military get in FREE with an ID. Texas Pool members get in FREE with no wait.
What to do

Some of Plano's walkable entertainment districts include the Downtown Plano Arts District, Legacy West, and The Shops at Legacy.
Legacy West is known as a "city within a city"; it is the largest mixed use destination in North Texas and is a great place to hang. The 255-acre development boasts plenty of open-air high-end retail and restaurants.
Nearby, The Shops at Legacy features an upscale retail mix of men's and women's clothing, home furnishings and more retail. The development is also home to the Angelika Film Center & Café, a stylish five-screen boutique cinema devoted to independent specialty film, as well as some of the area's best restaurants.
Not to be missed is the Downtown Plano Arts District, which was named one of the Top 10 Best Downtowns in America by Livability.com, offering a charming setting for a simple stroll, a unique dining experience, an afternoon of shopping, or an evening's entertainment at McCall Plaza.
Another idea – fowl-on at Fowling Warehouse! Have you seen the newest craze to hit Plano? Fowling is a unique and entertaining game that merges football with bowling, and in Plano at Fowling Warehouse, older children and their parents can have a blast playing this new sport. It's as easy as throwing a football at ten bowling pins until someone knocks them all down.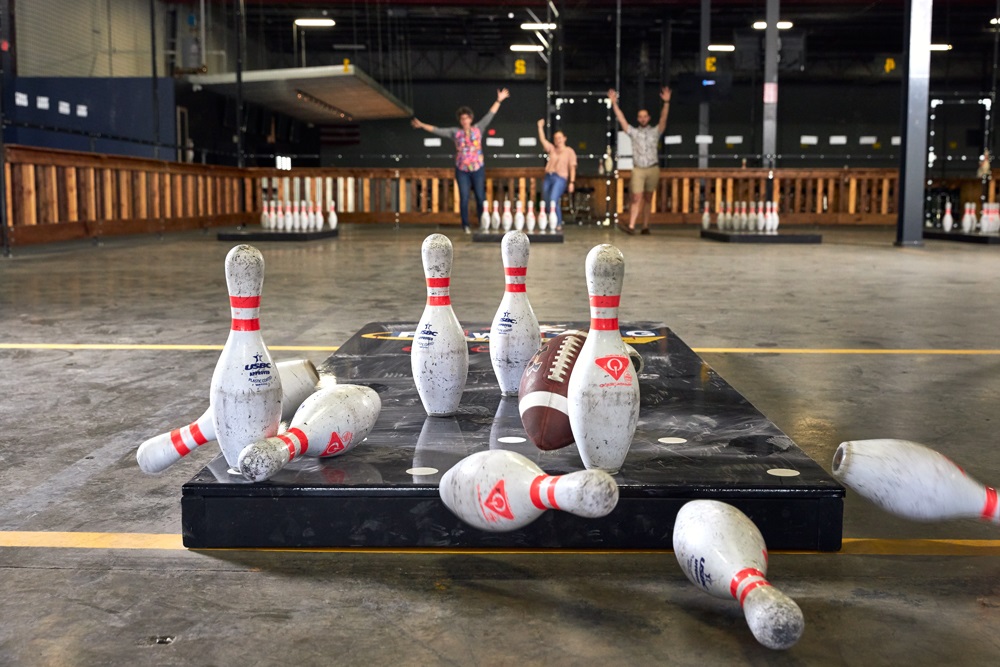 For a complete list of Plano attractions and activities, click here.
Where to eat

With over 1,000 restaurants, from breweries to barbecue and everything in between, Plano is for serious foodies.
Try it all at Legacy Hall! In this one-of-a-kind artisanal food hall at Legacy West, visitors can wander over 20 stalls to meet local purveyors and sample everything from lobster rolls and sushi to old fashioned hamburgers and duck fat fried chicken. There is also has an on-site brewery and an outdoor entertainment stage. Legacy Hall was even named the #2 best new food hall in the nation by USA Today in 2019.
Also, The Boardwalk has the same energetic but simultaneously relaxing feel that everybody knows and loves when it comes to boardwalks. The Boardwalk at Granite Park offers various restaurants with relaxing patio dining spots, a live entertainment stage, an outside kid's play area, and is a great place to stroll, dine, and unwind. Be sure to grab a beer from Union Bear's in-house brewery and relax on the patio!
At both Legacy West and The Shops at Legacy you'll enjoy meals and drinks all day at the many popular restaurants like: Bulla Gastrobar, CRU Food & Wine Bar, Del Frisco's Grille, Del Frisco's Double Eagle Steakhouse, Earl's Kitchen + Bar, Ebb & Flow, Fleming's Steakhouse, Half Shells Seafood Grill, Haywire, Main Street Bakery, Mesero, Mexican Sugar, North Italia, Prim & Proper, RA Sushi, Tommy Bahama, True Food Kitchen, Haywire, KAI, Taverna, Tommy Bahama Restaurant, Toulouse, and Fogo de Chao. 
Across town, the Downtown Plano Arts District also offers amazing one-of-a-kind restaurants. From Austrian and Italian to buffalo burgers and Texas barbecue, there's a little something for everyone. Check out all the unique finds here.
Check out our dining listing and search your craving to see what Plano offers. Or watch our That's Tempting Favorite Temptations video series for more insight.

Find more events and things to do in Plano on our website and blog.