Make it a summer to remember with your family and friends in Plano, TX. From family activities to friends night out, here are X things for you to plan to do in Plano this summer.
Make Your Summer plans
1. Make a Splash

Swim across Texas at the historic Texas Pool, a 168,000 gallon saltwater pool shaped like the great State of Texas. It's also a National Landmark listed in the National Register of Historic Places! The pool is open Memorial Day to Labor Day and features a diving board, two water slides, and an island with a shallow "South Texas" wading area for small children and parents. Cook out on their BBQ grills or enjoy the snack bar. There are also picnic tables and a beach volleyball court. Tourist passes are available.

Aside from The Texas Pool, stay cool by visiting one of the City of Plano's indoor or outdoor pools: Carpenter Park Recreation Center (indoor), Jack Carter Pool (outdoor), Liberty Recreation Center (outdoor), Oak Point Recreation Center* (indoor), Plano Aquatic Center (indoor pool and outdoor splash pad), and Tom Muehlenbeck Recreation Center (indoor/outdoor). *Renovations to Oak Point Recreation Center's outdoor pool are expected to be completed this summer with a targeted opening on July 4 (weather permitting). Admission to the pools is included in Plano Recreation Center memberships; non-members and guests can pay a minimal daily admission fee at each pool. Outdoor pools are open Memorial Day weekend through Labor Day.

Hit the splash pad at Liberty Playground at Windhaven Meadows Park, Jack Carter Pool, Plano Aquatic Center, and Tom Muehlenbeck Recreation Center.
2. Catch Live Music

When it comes to finding live music in Plano, Legacy Hall knows how put on a show! All summer long they are throwing out all the tunes of all genres. From Kenny Chesney to Queen, Legacy Hall has all the best tribute concerts covered this summer. Don't miss their POP 2000 Tour on July 15 hosted by Chris Kirkpatrick of NSYNC and featuring O-Town, Ryan Cabrera, and LFO. Check out all their upcoming shows and events on their calendar.

Another music hotspot is McCall Plaza in the Downtown Plano Arts District. Enjoy free live music in the Downtown Sessions summer music series from artists like Colton Hamilton, KellyMarie, The Iron Fist of Duncan, and The Capitol. There are also fun and free Karaoke Nights. Don't miss out on all the fun in downtown Plano; check upcoming events on our calendar here.
The Plano Community Band is also bringing back their Summer Concerts in the Park at Haggard Park in the Downtown Plano Arts District on June 6, June 20, and July 18.
3. Celebrate July Fourth

Celebrate Independence Day in Plano with several patriotic events. On July 3 at Haggard Park in the Downtown Plano Arts District, enjoy the Plano Community Band's free Patriotic Concert at 7pm. On July 4 from 12pm-6pm, swim across Texas at The Texas Pool and enjoy food, traditional pool games and legendary fun in the sun. Admission is $10 per person; veterans and active-duty military get in FREE with an ID.
Of course, we've got to have fireworks! Come out to Oak Point Park for Plano's free All American 4th celebration. The festival begins at 6 p.m. and fireworks begin at 9:30 p.m. Parking will be available at Collin College. Feel free to bring lawn chairs, blankets and coolers, but please leave pets at home.
4. Shop Till You Drop

One thing is for sure when it comes to Plano, there are endless shopping options to experience. Dallas may be known as one of the top shopping destinations in the U.S., but just 20 miles north, you can continue the one-of-a-kind shopping adventure in Plano.
From Legacy West, The Shops at Legacy, The Shops at Willow Bend to the Downtown Plano Arts District and everywhere in between – Plano is brimming with shopping areas. Check out Plano's shopping adventure here.
Don't miss the new luxury shopping at Legacy West. The line-up of the best-of luxury retail includes: Gucci, CHANEL Beauty, Tiffany & Co., Tory Burch, and Louis Vuitton.
Don't forget to check-out Third Monday Trade Days at Southfork Ranch June 17-19, July 15-17, and August 19-21 featuring over 200 different booths selling everything from clothing, antiques, hand crafted items, furniture, specialty foods, and so much more.
Downtown Plano also has a Late Night Sip & Shop event June 16 and July 21 from 5pm – 8pm with participating retailers: Lyla's: Clothing, Decor & More, Sweet Home Bath & Body (inside Lyla's), and The Feathered Nest.
5. Walk the boardwalk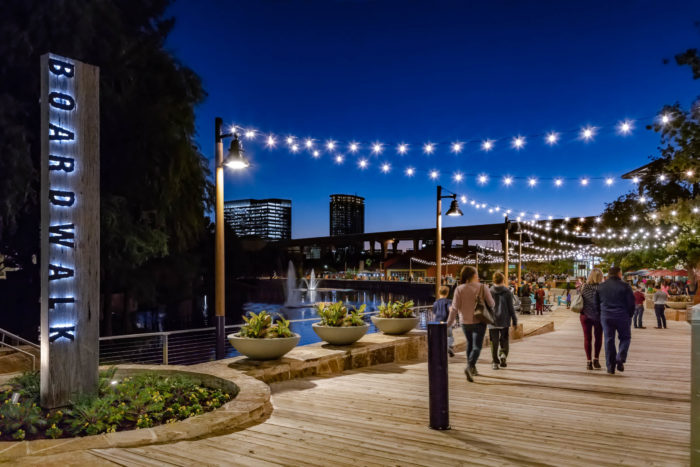 Day or night, The Boardwalk at Granite Park makes for a special dining experience! Nestled in the middle of the Granite Park corporate business center sits a 30,000 square foot restaurant park called The Boardwalk. With restaurants of all types, a casual family-friendly atmosphere, entertainment, and an amazing waterfront view, The Boardwalk is the perfect place for a patio brunch date with friends, a fun family dinner, or a late night date spot. Grab a beverage from one of the restaurants on The Boardwalk and relax with friends on the waterfront!
6. Dodge the heat at Crayola Experience

Plano's most colorful attraction, the Crayola Experience at The Shops at Willow Bend, is an amazing place where visitors can explore 22 hands-on attractions in a 60,000 square foot space that Parents Magazine calls one of the "Top 10 Trips to Take Before Your Kid Turns 10." Enjoy Toddler Tuesdays the first Tuesday of each month for special crafts and activities, plus an exclusive souvenir Snack Pack.
7. Fly high at Go Ape

The first treetop adventure course in Texas is just minutes from the Downtown Plano Arts District at Oak Point Park & Nature Preserve. This vast area of natural beauty sits on 800 acres and features more than just a canopy tour. Go Ape includes five individual sections with rope ladders and 39 exciting crossings.
8. Attend an Event

There are so many awesome events happening this summer. Be sure to check out event calendar all summer long to see what's happening. Below are a few highlights:
Happy Hour Hikes: Happy Hour Hike is a monthly sip-and-shop event at Legacy West where guests enjoy a variety of beverages, new shops and live music. C'mon, get happy with Legacy West and Plano Magazine at the Happy Hour Hike, a monthly sip-and-shop event where guests enjoy wine, beer and cocktails while discovering new shops, restaurants and experiences throughout the Legacy West neighborhood. There will also be a photo op, live music and shopping discounts. This summer, enjoy this event on June 2, July 7, and August 4.
Let's Get Fizz-ical Workout & Brunch: Dust off your leg warmers, grab your best friend, and join Legacy Hall in the Box Garden for a full-body strength class. Dust off your leg warmers, grab a neon scrunchie, your best friend for a full-body strength class, interspersed with fun cardio moves, led by The Barre Code Plano. Channel your inner Jane Fonda as we take this fitness class to the next level with all the best 80s tunes and some throwback moves too. After class, use your $15 Hall Pass to treat yourself to a totally tubular brunch and a mimosa or Unlawful Assembly beer (or fresh juice). It is guaranteed to be a rad day, no duh.
Best of 90s Trivia: Here's the 411, 90s themed trivia at Legacy Hall on June 14 is going to be all that and a bag of chips, so grab your friends and come play! Do you remember the Backstreet Boys, Mad TV, and Super Mario? Grab your dudes and dudettes and test your knowledge of 90s music, movies and icons. Come early and grab a pizza to share from The Italian Job or a bucket of Duck Fat Fried Chicken Wings from Roots Chicken Shak. With over 20 eateries and bars, there's something for everyone at Legacy Hall. Don't miss the costume contest too!
Retro Expo: Retro Expo returns to Plano Event Center Saturday & Sunday, July 16 & 17, 2022, for another round of retro fun, featuring local and out-of-town dealers selling vintage toys, comic books, video games, VHS tapes, vinyl records, action figures, autographs, Pokemon, t-shirts, art, horror memorabilia and much more! Special celebrity guests include: The Six Million Dollar Man, Lee Majors, Lindsay Wagner, and Erin Gray as well as Megan Hollingshead, Tom Cook, Eric Stuart, and Keone Young.
Save money this summer with these great Plano hotel deals!
Find more things to do and unique places to eat in Plano by exploring our website and blog.