We all know the years of traveling as a family are limited, so make the best memories possible with all the fun there is to see and do in Plano, TX. When traveling with kids of any age, it's great to have planned activities to help keep them busy and active. For families with littles to families with teens, there is so much to see and explore when visiting Plano. Let's explore 7 kid-friendly Plano attractions (and more)!
7 Kid-Friendly Plano Attractions
Crayola Experience
With 60,000 square feet of attractions, Crayola Experience is Texas' most colorful family destination for interactive, creative play. Families typically spend 3-4 hours exploring the 22 hands-on attractions. Kids of all ages can embark on a wonderful, whimsical adventure with such unique experiences as starring in their very own coloring pages, naming and wrapping their very own Crayola crayon, learning how crayons are made in a live manufacturing show and so much more.
PURCHASE DISCOUNTED CRAYOLA EXPERIENCE TICKETS HERE.

Fowling Warehouse
It started as a one-lane mashup of two popular sports while tailgating at the 2001 Indy 500. Today, Fowling is quickly turning into a national sensation. Fowling is a unique and entertaining game that merges football with bowling and is perfect for small or large groups. It's as easy as throwing a football at ten bowling pins until someone knocks them all down. Fowling Warehouse's Plano location is the first in the south, their largest venue, and the first venue with full food & beverage options! This is a perfect indoor activity for older kids and teens.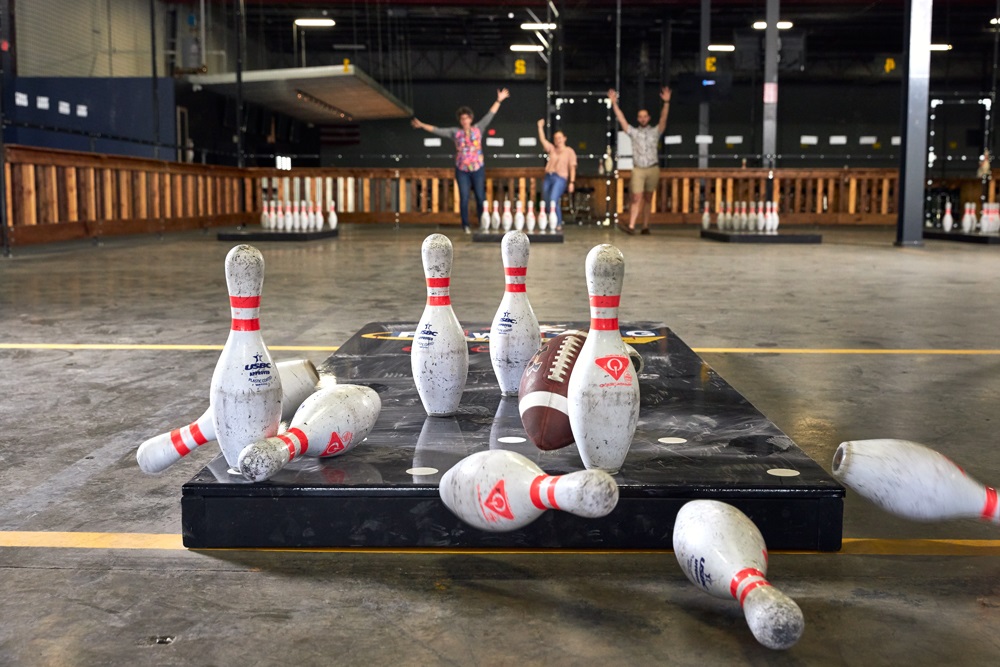 Go Ape
Glide over the forest canopy at Plano's Go Ape! Zip lines, Tarzan swings and suspended obstacles bring out your inner monkey and provide a fun challenge amid 800 acres of natural beauty at Texas' only Go Ape location. Riders must be 10 years or older, at least 4-feet-7-inches tall and weigh no more than 285 pounds.

Heritage Farmstead Museum
Set on four acres, this living history museum lets visitors step back into the late 1800s and early 1900s. The property's beautiful Victorian home and 12 outbuildings were once part of a 360-acre farm operated by colorful local resident Ammie Wilson.

Interurban Railway Museum
Interurban Railway Museum, a railroad car turned urban museum offering a microcosm of North Texas railroad history right in Haggard Park. Plano Station, Texas Electric Railway, now known as the Interurban Railway Museum, is a historic train station at 901 E 15th Street in Plano, Texas. It is still served by the Downtown Plano station of the Dallas Area Rapid Transit light rail, which reutilized the right of way of the interurban.

PINSTACK
PINSTACK is North Texas' first state-of-the-art bowling and active entertainment destination. This 50,000 square foot fun zone features a 28-lane bowling alley, a ropes course suspended 20 feet above the gaming center, two-story laser tag, bumper cars, six lanes of LED-lit rock climbing walls, and hundreds of interactive games. The facility also has a specialty restaurant featuring a chef-driven menu and craft cocktails, an outside bar area, covered patio with fire pits, gelato bar, big screen TVs and ample seating.

Southfork Ranch Trail Rides
Revisit memorable scenes from the television series "Dallas" at Southfork Ranch in nearby Parker or saddle up on horseback and take a trail ride through the property.

More Kid-Friendly Attractions
Battle House Laser Combat
Carpenter Park Skate Park
Cheeky Monkeys
Children's Health StarCenter – Plano ice skating
CTRL V – Virtual Reality
Dark Hour Escape
Farm + Feed gaming restaurant
Jack Carter Pool
Kid Mania
Lords Indoor Sports
Main Event
Nerfies
Pipe & Palette art classes
Plano Super Bowl
Play Street Museum
Red Door Escape Room
Safari Run
The Texas Pool
Thunderbird Roller Rink
Whirly Ball Texas
For more things to do in Plano, TX, explore our website's attraction and event calendar listings.