Updated: 5/10/23
Plano has a thriving live music scene. Even locals may be surprised to learn there are more than 30 venues across the city that offer some sort of live music on a regular basis. From hip restaurants to new unique venues, you're bound to find something close by that interests you. Here's a breakdown of some popular live music venues in Plano.
Live Music venues
Box Garden at Legacy Hall
The Legacy Hall Box Garden is an outdoor patio and entertainment venue designed to be a versatile and innovative, communal space. It's the spot for a happy hour with friends, a business rendezvous or some late-night fun. At its core is a 600-square-foot event stage that hosts live music, concerts, sports watching, festivals, culinary events and more. To see what's coming up at the Box Garden, click here.

Courtyard Theater
Courtyard Theater in the Downtown Plano Arts District is a 321-seat, proscenium-style theater that regularly hosts live music events like the Courtyard Texas Music Series. Click here to take a tour.

Love & War in Texas
Live Texas music has become a tradition at Love & War. Texas singers and songwriters from around the state are finding their way to what is quickly becoming a central gathering place for Texas music and musicians. Join L&W for Texas food, fun and music.

McCall Plaza
McCall Plaza is the newest live music venue to add to the City's collection and is centered in the heart of the Downtown Plano Arts District. Throughout the year, there are programs put on by Plano Arts & Events and the Historic Downtown Plano Association.

Red Tail Amphitheater at Oak Point Park
The gorgeous Red Tail Amphitheater at Oak Point Park paints a beautiful backdrop for live music events throughout the year. This venue plays hosts to the popular Beatles Night and can seat about 1,500 guests on their grass-covered landings. Take a tour here.

Sambuca 360
Sambuca 360, located at The Shops at Legacy, is a great spot to dance the night away with live music happening Thursday-Saturday!

The boardwalk at granite park
Nestled in the middle of the Granite Park corporate business center sits a 30,000 square foot restaurant park called The Boardwalk. With restaurants of all types, a casual family-friendly atmosphere, live music, and an amazing waterfront view, The Boardwalk is the perfect place for a patio brunch date with friends, a fun family dinner, or a late night date spot. Check out their live music events here.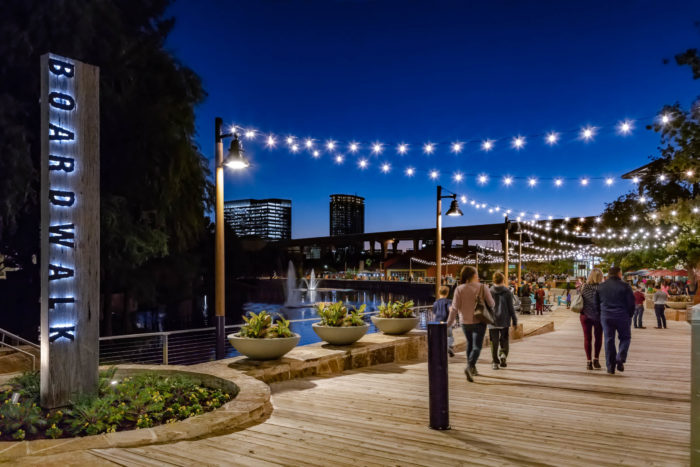 More Venues with live music
II Brothers Grill & Bar
Austin Avenue
Bavarian Grill
Café Bohemia
Daq's
End Zone
Fogo de Chao
Holy Grail Pub
KAI
Katy Trail Ice House Outpost
Lima Taverna
Mexican Bar Company
Renaissance Dallas at Plano Legacy West
Scruffy Duffies
Senor Locos Tex-Mex
Taverna Rossa
The Shops at Legacy
Tommy Bahama Restaurant
Turkish Café & Lounge
Urban Crust
Urban Rio
To view a complete list of live music events in Plano, check out our event calendar.