Written by: Layla Komal @dallaspakiblogger
The one reason why I love Plano is that you will never be bored! There are so many things to do in this city. There are various different options of cuisines, site seeing, and even hiking! In this blog post, I'll be telling you about 14 things to do in Plano, Texas with your family or friends.
1. Go Ape Plano

At Go Ape Plano there are five different courses. Every time you hit a milestone, it becomes more of a challenge! If you like an adrenaline rush and various challenges, this is up your alley. Overall, this was so much fun.
Here are some tips. 1.) Arrive 20 minutes early so you can get set up on time. 2.) If you have gloves, bring them. If not, you'll have to pay extra. 3.) Bring a phone case that hangs around your neck so you can take photos and videos.
2. Lime and Dime burgers

After a challenging course at Go Ape, head over to Lime and Dime. This is a halal burger place and it is delicious! There are so many different options of burgers here to fit all of your cravings. They also have wings and fries.
3. Hilton Granite Park

Check-in to this beautiful luxurious hotel. The rooms are HUGE, the views are amazing, and the bed was so comfortable; I did not want to leave! They also have a swimming pool, which is a big plus. After you have checked-in head over to the Boardwalk at Granite Park, The Shops at Legacy, or Legacy West for some fun.
4. The Boardwalk at Granite Park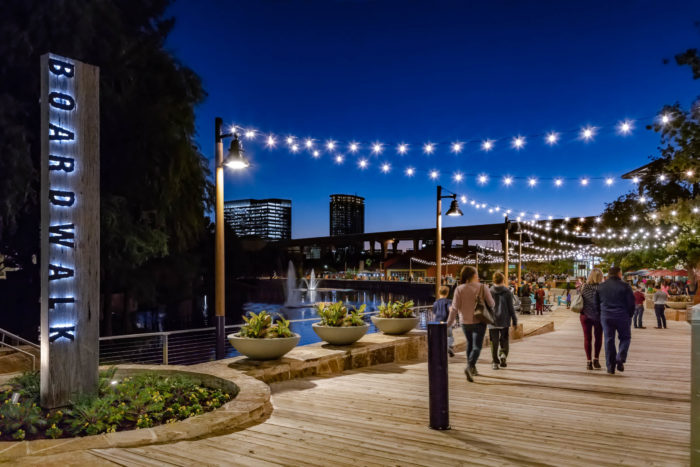 After checking into the hotel, you can walk around The Boardwalk at Granite Park. Choose from 10+ different restaurants to fit your cravings. Take your family out here to eat and you'll leave more than satisfied. Also, don't forget to stop by their seasonal installations for a fun photo-op.
5. Fruteria Tropical

Are you craving something cold? Head over Fruteria Tropical to get some mangonadas, elotes, cantaritos, and more.
6. XO Coffee

Brunch or a coffee date at XO Coffee is a must. They have a cute aesthetic, delicious coffee, and cute décor! I ordered hot chocolate and pasta. I was surprised they had brunch options, so I had to try something. I'll definitely be going back to try more. *XO Coffee has since closed their doors.
7. Downtown Plano Arts District

In the Downtown Plano Arts District, there are great shopping opportunities with several local boutiques. All that shopping will work up an appetite and luckily there are many unique restaurant options to choose from. Another tip – Haggard Park would be a beautiful backdrop for a photoshoot. Or go mural hunting and find your favorite one in downtown!
8. Mural hunting

My favorite part of each city is going mural hunting. You can find so many fun murals here, especially in the Downtown Plano Arts District. This one is located right across from Haggard Park and it's a must-see if you'll be staying in Plano!
10. Heritage Farmstead Museum

After exploring, eating, and taking cute photos in downtown, head over to the Heritage Farmstead Museum, a Plano hidden gem. Tickets are $5 per entry, plus $2 extra for a hayride. Here you can feed chickens, sheep, pet horses, and have a picnic with your family or friends. There is plenty to keep busy here.
11. Arbor Hills Nature Preserve

Going on a walk or run is a great way to burn your calories. Arbor Hills is a 200-acre park featuring walking, jogging, hiking, and various outdoor activities. There are so many pretty spots to take photos here and it's beautiful!
12. Studio Movie Grill

After a long day of exploring, want to relax? Head to the movies. There are plenty of movie options in Plano, Texas. You can choose what fits your needs.
13. Dock Local at Legacy Hall

Have dinner at Dock Local. The vibes here are AMAZING! If you are craving lobster, crab, and shrimp, then stopping here is a must. We had chips, queso, and a shrimp salad. Super good! P.S. this is located inside Legacy Hall.
14. Milky Treats Ice cream

Craving for dessert? Try Milky Treats for some ice cream. Hear me out, donuts filled with ice cream? Yes, please!
The fun in Plano, Texas is endless and there is so much to do here. You can stay here for a week and you'll never get bored. There's always something going on in this city and I love it.
If you need more things to do, check out Visit Plano for all the resources.