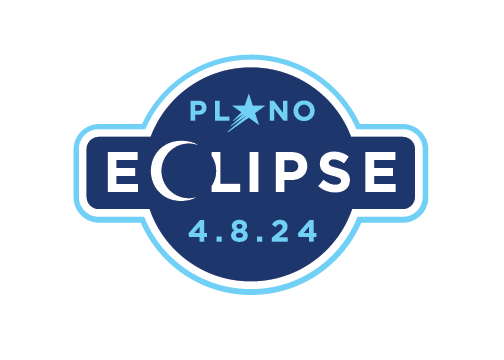 Let's Look Together! 2024 Total Solar Eclipse
Plano, Texas is on the path of totality for the total solar eclipse on Monday, April 8, 2024.
Make it a weekend getaway or come for the day; either way, Plano is total-ly the place to watch! From out of this world hotel deals to where to watch, here is your guide to viewing it in Plano.
Eclipse Hotel Deals
Stay for an extended weekend!
Find out of this world hotel deals and special packages here.

Where to Watch
Two official Plano viewing locations
Know Before You Go
Q: What is a total solar eclipse?
A: According to NASA, a total solar eclipse happens when the moon passes between the sun and earth, completely blocking the face of the sun. People located in the center of the moon's shadow when it hits earth will experience a total eclipse.
Q: What time should I expect the total eclipse to occur in Plano?
A: The total eclipse will make its way across Texas from southwest to northeast. It should be making its way across Dallas-Fort Worth starting at about 1:40pm.
Q: How long will the total eclipse last?
A: It should last approximately 4 minutes and 23 seconds.
Q: Do I need eclipse viewing glasses?
A: It is not safe to look directly at the sun without specialized eye protection for solar viewing. In fact, even viewing the sun through a camera lens, binoculars, or a telescope requires a special solar filter secured over the front of the optics or severe eye injury could occur instantly.
Q: Where can I find eclipse viewing glasses?
A: Visit Plano has purchased a limited supply of eclipse viewing glasses that are available complimentary while supplies last. Please visit the Visit Plano Visitor Center from 8am-5pm Monday-Friday to pick up your free pair. City departments will also be on-site at the two official Plano viewing locations distributing eclipse glasses while supplies last.
Q: Where should I view the total solar eclipse in Plano?
A: The City of Plano is encouraging Plano citizens to view the total eclipse within their neighborhood communities. For those visiting Plano, there are two official viewing locations at Oak Point Park Nature Preserve and Windhaven Meadows Park.
Q: What should I bring with me?
A: Blankets, folding chairs, picnic, water, and eclipse glasses. Please help keep our parks beautiful by disposing of your trash/recycling correctly.
Q: What is there to do in Plano before and after the solar event?
A: Plano brims with amenities and attractions making for the perfect weekend getaway. With over 1,000 restaurants of every variety including a three-story food hall, brewery, and entertainment venue, world class shopping, a lively arts and nightlife scene, walkable entertainment districts, and abundant natural beauty, there is so much to discover here. Find it all by exploring our website.
ECLIPSE EVENTS

Lorem ipsum dolor sit amet adipiscing

Lorem ipsum dolor sit amet

Lorem ipsum dolor sit amet

Lorem ipsum dolor sit amet

Lorem ipsum dolor sit amet

Lorem ipsum dolor sit amet

Lorem ipsum dolor sit amet

Lorem ipsum dolor sit amet